Brake & Equipment continues to support racing on a local level as well as nationally through Federated Auto Parts. Federated is proud to be a major sponsor of Ken Schrader Racing. For 2014, Federated Auto Parts and Ken Schrader will partner at select NASCAR Sprint Cup events. For more information on Federated Racing visit Federated's website.
Elko Speedway will play host to the ARCA series on Saturday, June 21 with Ken Schrader and the Federated car making a stop at our auto parts warehouse in Minneapolis on Friday June 20th.
Here in Minnesota, Ryan Varner has raced competitively for 9 years and we look forward to continuing to support Ryan in his racing career. You may catch Ryan during the racing season at Raceway Park.
Ryan Varner racing, the #3 carAfter racing on road courses in 3 classes of karts for 7 years, Ryan Varner quickly adapted to the high banked track at Raceway Park. Ryan went on to dominate the Flyer class with 9 wins in 15 races. Ryan finished 6th in the standings at Raceway Park in the Bomber Division in 2011. With 2 heat wins and 5 top fives, Ryan is looking to challenge for the Championship in 2012. This not Ryans first time in a Championship mode.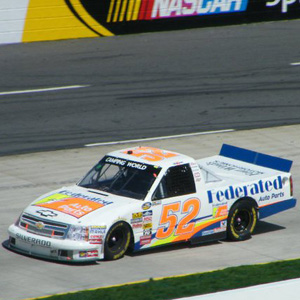 New to the Brake & Equipment racing team is Slugworks Racing which competes in the ChumpCar circuit and is based in Minnesota.
Slugworks Racing is a Minneapolis based Chumpcar team started by long time friends John Bjerke and Paul Kruse. Having competed in local autocross and rallycross events, John and Paul decided to make the move to road racing. Participating in the inaugural year of the Chumpcar World Series (2010), and joined by Rob Thornton, the team competed in their first wheel to wheel endurance race at Brainerd International Raceway. The competitive drive immediately took hold and many enhancements were made to the car to make it extremely competitive, including a turbo system. Shane Ziegler, well known for his dyno tuning work at DB Performance, made a great final addition to team personnel in 2011. The new found speed earned Slugworks a few top-ten finishes and an invite to the one and only 25-hour 'National Chumpionship'. The new goal for 2012 has been to further engineer for reliability and consistency, and has already been demonstrated with a 4th place finish in a large field at Road America.
For more information on Chumpcar visit their website chumpcar.com and follow Slugworks Racing on facebook!
Catch Slugworks at the following races (subject to change):
Road America in Elkhart Lake WI on April 21-22
BIR in Brainerd, MN on June 30
Iowa Speedway in Newton, IA on August 25-26
Topeka, KS on September 22-23
We wish the entire Slugworks Racing Team good luck for the 2012 racing season.
"ChumpCar is North America's home for $500 race cars and real endurance road racing. Real racing, real tracks, real drivers and really cheap cars! We're all about endurance races that range from 7-hours to 24-hours long… and, even longer! ChumpCar has the distinction of holding the longest closed-course endurance road race in the world… 25 hours, 25 minutes and 25 seconds – the 25:25:25" (from the Chumpcar website).
Teams consist of at least 4 drivers, often more, as well as crew members to help out with repairs and during pit stops. Drivers are allowed to drive up to two hours at a time, and take shifts to complete a race. The team with the most laps accumulated at the end of the race is the winner. All cars run street tires, and have only simple or home-brew performance components. A typical Chumpcar race field may consist of anywhere from 30-70 cars on the track at once, and each car must undergo a rigorous safety and technical inspection, for which they must prepare documentation on the car and added modifications. If a car is determined to be worth more than $500 (not including safety items and a few other exceptions) the team is assigned penalty laps. Chumpcar is a fantastic entry-level, low budget way to get introduced to wheel-to-wheel endurance road racing.